Vision
Kingdom Culture Christian School (KCCS) has the vision of "Raising Tomorrow's Leaders" who will make a Godly and positive influence in every strata of society. It is not just another Christian school but we are forming their skills and talents to be exemplary leaders of integrity and character. The school will adopt a 21st Century learning methods such as blended learning & project based learning. It will be a self paced, student centred learning, based on mastery of individual student's strength and not just passing the grades. Our motto is "Raising Tomorrow's Leaders".
Why KCCS?
L – We are creating LEADERS IN THE MARKETPLACE, not just great workers.
E – We use EDUCATION METHODS OF THE 21ST CENTURY to equip 21st Century learners.
A – We are forming ARROWS OF DESTINY to be used mightily in the hands of God.
D – We DISCIPLE THE WHOLE PERSON, not just educate the mind.
E – We EMPOWER THEIR UNIQUENESS with the right skill sets to be successful in life.
R – We are raising RESPECTED INDIVIDUALS by building up their earthly and spiritual stature.
Traditional Education vs. KCCS 21st Century Education
Annual Report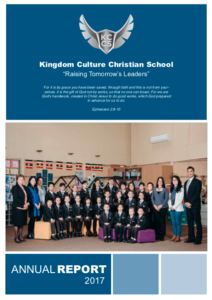 Policies
MANAGEMENT OF ATTENDANCE & ENROLMENT POLICY
AIMS, GOALS & EDUCATIONAL PHILOSOPHY